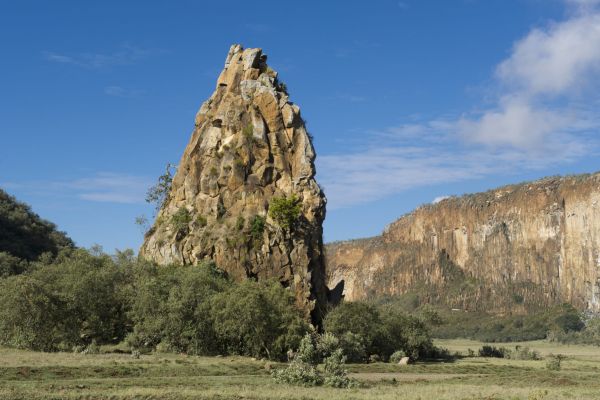 Hell's Gate National Park
"A Walk on the Wild Side"
Named for the intense geothermal activity within its boundaries, the Hell's Gate National Park is a remarkable quarter of the Great Rift Valley. Spectacular scenery including the towering cliffs, water-gouged gorges, stark rock towers, scrub clad volcanoes and belching plumes of geothermal steam make it one of the most atmospheric Parks in Africa. Hell's Gate is an ideal venue for a day trip from Nairobi where, in addition to the bio-diversity that includes raptors, visitors can enjoy mountain biking, rock climbing and a natural spa.
Wildlife
African buffalo, zebra, eland, hartebeest, Thomson's gazelle and baboons are common. The park is also home to klipspringer antelope and Chandler's mountain reedbuck
Prolific birdlife – there are over 100 species of birds in the park, including vultures, Verreaux's Eagles, augur buzzard and swifts.
Attractions
Spectacular scenery including  towering cliffs, water-gouged gorges, stark rock towers, scrub clad volcanoes and belching plumes of geothermal steam make it one of the most atmospheric Parks in Africa.
Wildlife  viewing
Raptor nesting in cliffs
Hot springs
The Olkaria Geothermal Station
The Mervyn Carnelley Raptor Hide
Tourist circuits, nature trails
Health spa