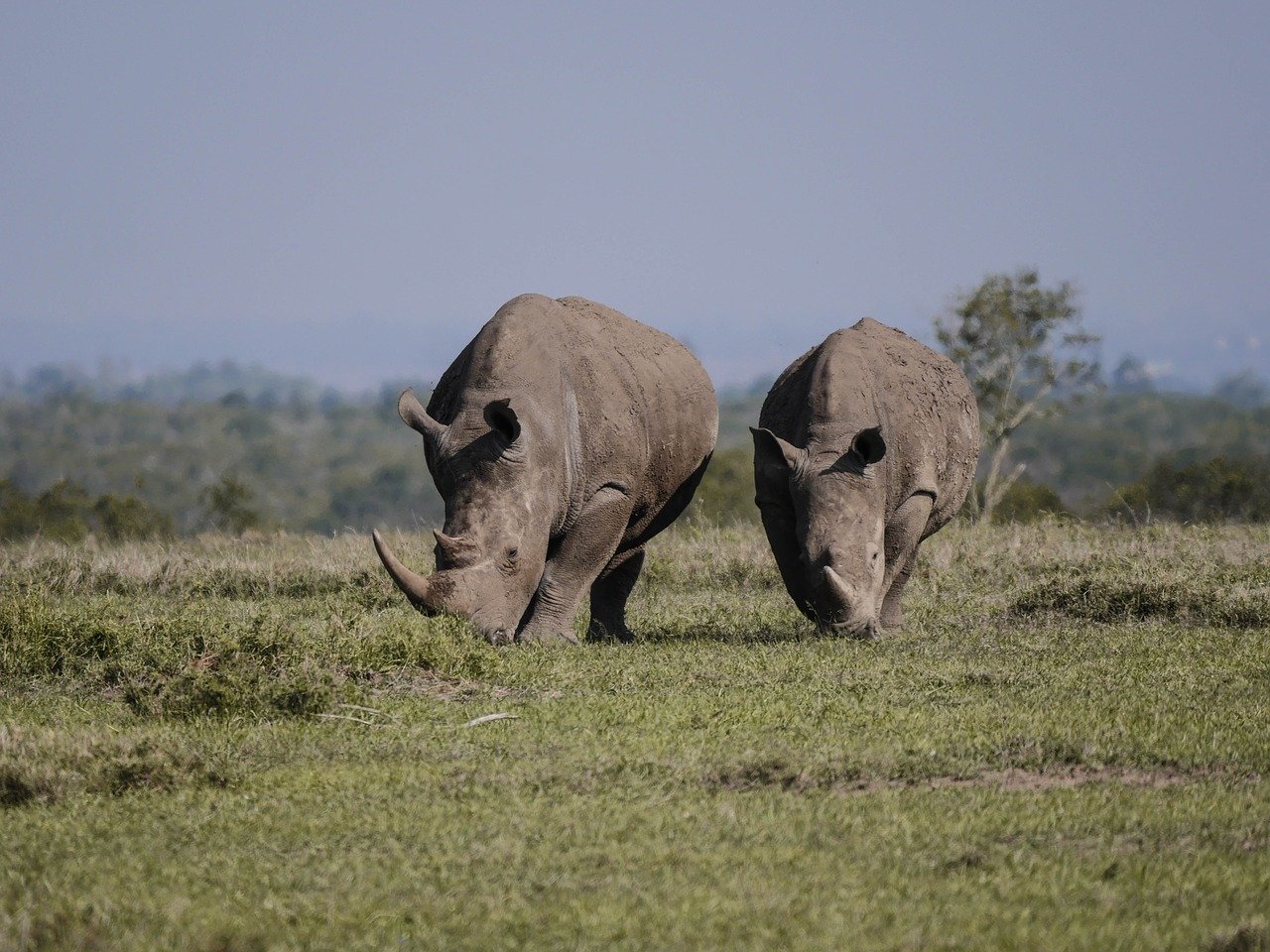 Ol Pejeta Wildlife Conservancy
The Ol Pejeta Conservancy is a 360 km2 (140 sq mi) not-for-profit wildlife conservancy in Central Kenya's Laikipia County. Situated on the equator west of Nanyuki, between the foothills of the Aberdares and Mount Kenya. The Ol Pejeta Conservancy works to conserve wildlife, provide a sanctuary for great apes and to generate income through wildlife tourism and complementary enterprises for re-investment in conservation and community development.
The Conservancy hosts the largest black rhino sanctuary in East Africa, and in 2013 reached a population milestone of 100 black rhino. It also houses the two remaining northern white rhino in the world, who were moved here from Dvůr Králové Zoo in the Czech Republic. The Sweetwaters Chimpanzee Sanctuary is situated here, and provides a haven for orphaned, abandoned and rescued chimpanzees. It is the only place in Kenya where these great apes can be seen.
The Conservancy is host to the "Big five game" among a large selection of other African animals, which makes it a popular safari destination. It also operates a successful livestock program, which serves to benefit local pastoralists and wildlife. Through the conservancy's community development program, Ol Pejeta provides funding to surrounding communities to aid health, education, water and infrastructure projects. They also support the provision of agriculture and livestock extension services and the development of community-based conservation tourism ventures.
All members of the "Big five game" (lion, Cape buffalo, African elephant, leopard and rhinoceros) can be found on the Ol Pejeta Conservancy. Both black and white rhino thrive here. In 2013, Ol Pejeta recorded the birth of its 100th black rhino. This means the Conservancy is now a "Key 1" black rhino population on the IUCN African Rhino Specialist Group categorization. It is one of only eight sanctuaries in Africa with this distinction.
Other rare animals that can be found on Ol Pejeta include the endangered African wild dog, oryx, Jackson's hartebeest, Grevy's zebra, serval, cheetah and bat-eared fox. The more common African wildlife can, of course, be found here too, including giraffes, vervet monkeys, baboons, hippos, impala, eland, Grant's gazelle, dik-dik, plains zebra, silver backed jackal, hyena. There are also over 300 bird species on the Conservancy.
All animals are free to move in and out of the Conservancy by way of specially constructed "game corridors" that only restrict the movement of rhinos. Knee-high posts in the ground, situated very close together, present no challenge for elephant, antelope and carnivores, who are easily able to jump or step over. Rhinos, however, are unable to do this, and as a result are restricted from moving into areas where they are in danger of being slaughtered for their horn.